Labels
Celeb News
Entertainment
Celeb photos
Style
Fashion
Lifestyle
News
Music
Family
Awards
Magazine
Movie
Birthday
Wedding
Article
Baby
Fitness
Relationships
Engagement
Stories
Christmas
Sports
Video
Model
Health
Job Recruitment
Religion
BB Podcast
Easter
Holiday
Love
TDD
3k4Orphans
Beauty
Blogging
Giving Garage
Social Media
Social Media Week
TV
Valentine
jobinformant1

Wunmi Obe shared this cute throwback photo of herself and husband,Tunde. The entertainment couple have been together for 28 years and married for 18 years, with three children. Very lovely couple.
Wow,this is really sad. In an interview with Pulse TV,Tiwa shares her own side of the story. The 'if i start to talk' singer revealed her marriage to Tee Billz have been in shams for two months now. She also said her husband was cheating while she had a miscarriage in Jamaica.she had a miscarriage while her husband was cheating. 
Quite messy. See video after the cut..

Kendall Jenner and bff, Gigi Hadid rocked some daring style at The Nice Guy in Hollywood on Thursday night. Gigi went bra-less in a silk camisole,white shorts and thigh-high mesh boots while Kendall donned an embroidered flares and a dramatic, floor-sweeping coat.
They were joined by Kylie,Kourtney and Khloe Kardashian,Taylor Swift (who looked incredible by the way) and Jaden Smith. More photos after the cut...
Actress and younger sister to twin fashion mogul,Mary-Kate & Ashley, Elizabeth Olsen stun for Elle Canada Magazine ,June issue. Speaking to the publication,the 27-year-old said;
'I've been very conservative, but I'm trying to allow myself to feel confident with being sexy,''A lot of the time in my life, I try not to take up space — I just want to disappear into a wall,'
'And then eventually, when I'm around people I feel confident with, I'll take up more space.' 
More photos after the cut...
Kylie Jenner is the latest cover girl for Glamour magazine,June issue where she discussed being a feminist and how she depends on no one.
'I mean, of course I do, but I don't think I stand up in public that way a lot. Not that I don't feel things in my personal life, but yes: I do consider myself a feminist.
'I'm a young woman, for one thing, and I don't depend on a man or anybody else. I make my own money and start my own businesses, and I feel like I'm an inspiration for a lot of young girls who want to stand on their own.' 
Khloe Kardashian seem to be coming to terms with Rob Kardashian and Blac Chyna's relationship. She shared the photo (left) on her snapchat holding hands with her brother and captioned; 'Rooooobbbbbbbb'
A photo with Blac Chyna would be a bonus... Kim and Kylie seem to tag along.
Hollywood actress,Eva Mendes mourn the loos of her older brother,Juan Carlos who lost his battle to cancer on the 17th of April. The star who is pregnant with her second child,shared the photo above on her instagram and captioned with a heart emoji. 
He was just 53 years old. May his soul rest in peace.See tribute from her other  brother,Juan Carlos after the cut...
Kate Hudson looked stunning in this plunging pale peach backless halterneck gown at the Mother's Day premiere in New York on Thursday
The actress and mother-of-two paired her look with nude pumps and peach clutch.More photos after the cut..
Model,Kendall Jenner shared this funny photo of sister Kylie and captioned; 'If only' . Lol,good one.
50 Cents babymama and Jason Derulo's girlfriend put her sexy curves on display in beige two-piece which featured a bandeau top and racy cut-out in South Beach, Miami  on Wednesday.
My God! Her body is sic'. More photos after the cut..
Nollywood actor,Desmond Eliott shared the photo on his social page.
Kim Kardashian attended Supermodel,Naomi Campbell book signing at the Taschen bookstore in Beverly Hills, California on Thursday.
The mother-of-two looked fabulous in a red semi-sheer diamond-patterned dress with a high collar and long sleeves in nude strap heels. More photos after the cut...
Nollywood actress,Nse Etim-Ikpe looked stunning in in a new shoot for jewelry line, Nichole by Haguanna. More photos after the cut...
Oscar Winner ,Alicia Vikander has signed on to star in Tomb Raider for MGM, Warner Bros. and GK Films, The movie will be directed by Roar Uthaug. According to the director,the reboot draw inspiration from Square Enix's new games and feature a relatable Lara Croft that feels "like a real human being.
I think she will be great in the movie.What do you all think? Wise choice?
Mercy Aigbe have always been pretty.
R&B Singer,Usher revealed a little too much on his snapchat. The sexy singer shared a nude photo and covered his crotch with an emoji but it wasn't big enough to cover the tip. He captioned;"blowing off steam" 
Usher is really really sexy and don't get me started on his dance moves but this is too much.  See the photo after the cut and fans going bonkers on twitter...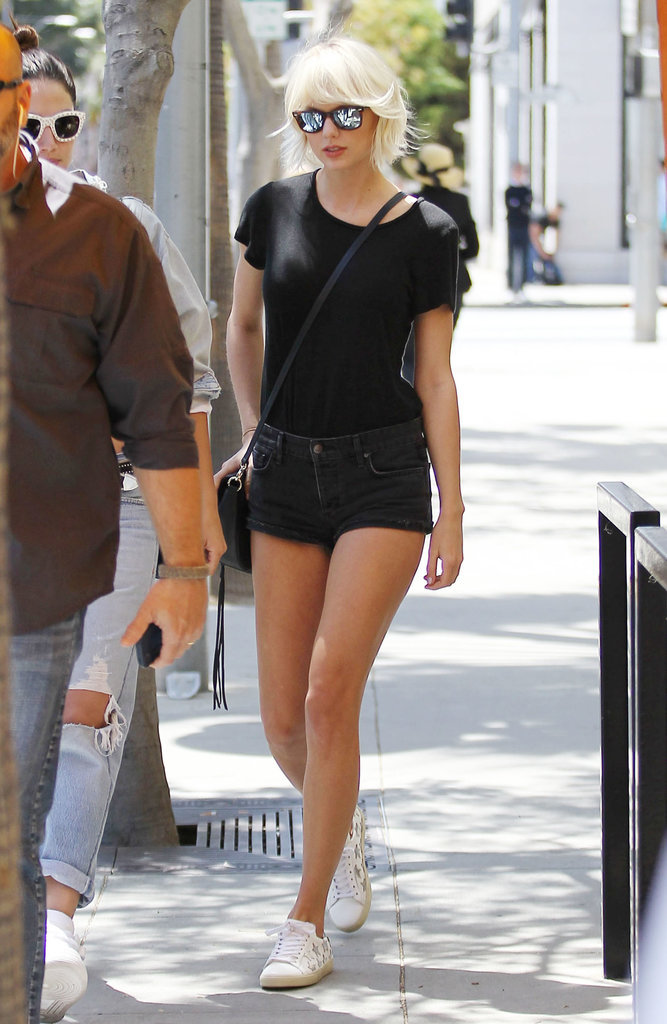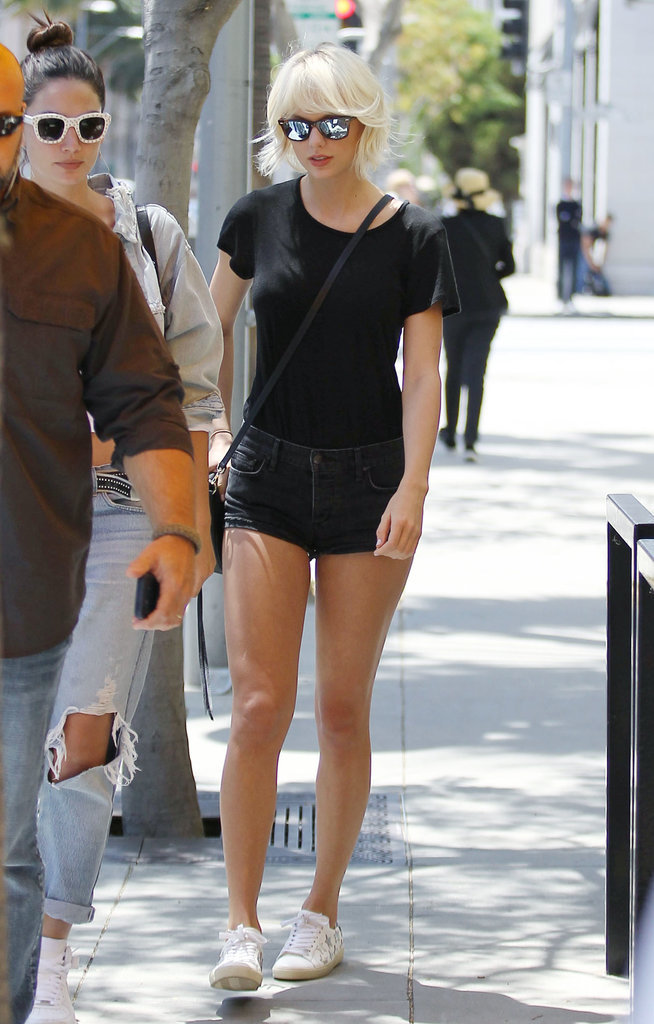 Taylor Swift looked simple and chic in black shorts, matching t-shirt in white sneakers and mirrored sunglasses to grab lunch with Victoria Secret pal, Lily Aldridge in Beverly Hills on Thursday.
Did i mention how much i love her bleached blonde hair? Very Cool!
Well according to reports by Life & Style magazine,Jennifer Garner,44 is expecting her fourth child with Ben Affleck and have called off their divorce.. A source revealed;
"Their friends are expecting an announcement very soon that Jen is pregnant,"  
Kelly Rowland made an appearance on Chicago's WGN Morning News to discuss her BET show,Chasing Destiny. And after Entertainment reporter,Dean Richards asked about her former band-mate and friend,Beyonce's trending visual 'Lemonade' album,Kelly brushed it off epic-ally.
"Have you heard it yet? Have you had an opportunity to get some thoughts on the whole thing?" "I sure have. It's great. It's absolutely great,"
"Really different though, right?" -Richard asked.
 "Yes, really different," Rowland agreed.
 "But getting back to what I'm here to talk about, Claritin. I'm very excited to be teaming up with Claritin and the Boys & Girls Clubs of America."
Oooh...What video after the cut...
Beyonce have officially kicked off her Formation world tour. The 'Lemonade' singer took to the stage,thanking fans,gushing about her daughter and Jay Z who she referenced as beautiful husband and paid a tribute to Prince,playing his famous hit 'Purple Rain'

"We were driving to rehearsal today and she said 'Mommy, are we going to your work?' And it reminded me that I dreamed of this day my whole life."  "Thank  you Prince for your beautiful music." 
Watch the video after the cut...
Comedian,Wale Gates shared series of post in the wake of Tee Billz marriage meltdown. More tweets after the cut...
Singer Flavour pose alongside his daughter with Sandra Okagbue. Baby father of the year....
Hmmm,so how about when he tried to jump off Lekki-ikoyi bridge(Well LIB reported it), was that hacked as well? Anyways,good to know all is well,so we can all move with our lives now.
Annie Idibia and her gorgeous girls,Isabella and Olivia strike a pose.
Rapper Iggy Azalea showed off flawless figure in bikinis and sleek outfits for a pool side photo for May issue of
 #Legend
Magazine. More photos after the cut...
Aww,such a lovely sight.#Mother-daughter love
Kuchi Kuchi singer,Jodie shared this peaceful sleeping photo of her son,Chinualumogu Naetochukwu Nnaji on her Facebook page. So cute.
OAP Freeze had a thing or two to say about Tiwa Savage and Tee Billz real name Tunji Balogun. He said;
I woke up this morning to an ordinary day. The weather was perfect and there was a sense of hope that filled the air........ Until I turned my phone on and the world turned upside down. I'm going to be 40 in a few days and I thought I had seen it all. Despite all the rumors about the Baloguns, I always presumed all was well on the Homefront and they were just rumors. My phone rang and it was my radio wife @kaylahoniwo calling, after a brief conversation, we both agreed upon the fact that his account must have been hacked. This is not the Tunji I know. 
Nigerian Rapper Sauce Kid (where have you been by the way?) wrote a message to Tee Billz on his IG,urging him to fight his demons.See more of the post below...